These spicy black bean burgers prove that meatless patties can still be packed with flavor and protein. Given a boost of smoky flavor from our Chipotle in Adobo, this twist on an all-American favorite is delicious topped with melted Chihuahua or Monterey Jack cheese, avocado and the salsa of your choice.
Prep time: 20 min
Cook time: 15 min
Total time: 30 min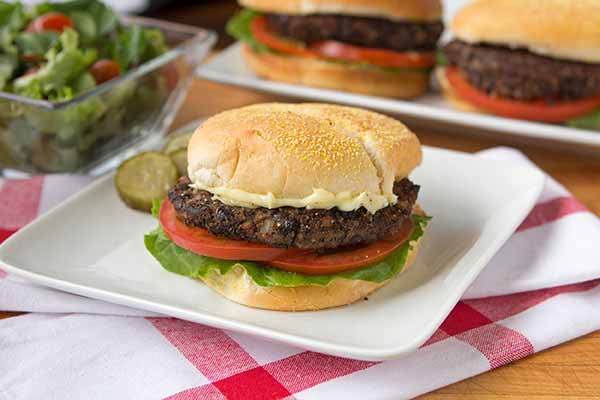 Ingredients
Makes 4 servings
28 Ounces Black Beans, cooked
1/3 Cup Plain Bread Crumbs
1/4 Cup Minced Onion
3 Tablespoons Mayonnaise
1 Chipotle In Adobo, 1 from can, chopped
1 Teaspoon Adobo Sauce, from can
2 Teaspoons Ground Cumin
1 Teaspoon Mediterranean Oregano, crumbled
1/2 Teaspoon Kosher Sea Salt Flakes
1/4 Teaspoon Ground Black Peppercorns Dustless
3 Tablespoons Olive Oil
4 Hamburger Buns
Directions
Place about half of beans, bread crumbs, onion, mayonnaise, chipotle chile, adobo sauce, cumin, oregano, salt and black pepper in food processor. Pulse until coarse purée forms.
Place remaining beans in bowl, and mash lightly with fork, leaving large chunks of bean visible. Add to purée, and mix well. Form mixture into 4 patties.
Heat oil in large skillet over medium-high heat. When oil is hot, add patties, and cook until crisp and lightly browned, about 2 to 3 minutes per side.
Transfer to buns, and top as desired.