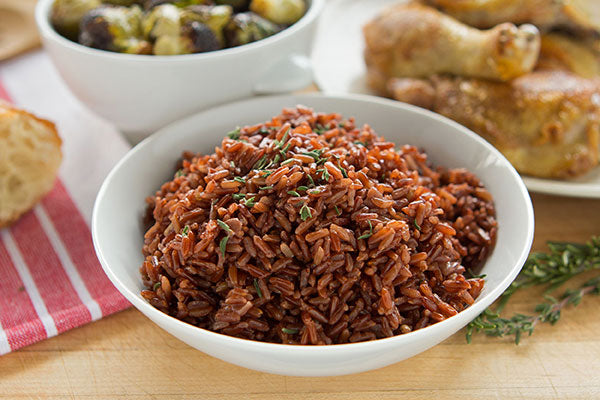 This striking, brick-red rice pilaf perks up any plate with its lovely color and nutty flavor, but is an especially complimentary side to roasted pork and chicken.
Prep time: 5 min
Cook time: 55 min
Total time: 60 min
Ingredients
Makes 6 servings
4 Boneless, Skinless Chicken Breasts
3 Poblano Chiles, roasted, seeded, skin removed
2 Tablespoons Olive Oil
1/2 Cup Red Onion, chopped
4 Cloves Garlic, minced
2 Teaspoons Chili Powder
2 Teaspoons Mexican Oregano
1 Teaspoon Crushed Red Pepper
3 Cups Ten Way Bean Blend, cooked
3 Cups Chicken Broth
1 Fresh Lime, freshly juiced
Chopped Fresh Cilantro, for garnish
Kosher Sea Salt Flakes
Ground Black Peppercorns Dustless
Directions
Preheat oven to 300ºF.
Bring stock to boil in medium saucepan. Reduce heat to low to maintain a simmer. Wrap thyme, bay leaf and peppercorns in kitchen cloth or coffee filter and tie with string, then add to simmering stock.
Heat butter in large oven-safe pan, and add onion. Cook, stirring, until onion looks translucent. Add rinsed Camargue (French Red) Rice, and cook, stirring, until grains are opaque.
Add salt, black pepper and hot broth. Remove herb sachet.
Cover tightly, transfer to oven and bake until rice is cooked through. Fluff with fork before serving.